A DESTINATION OF SWEET SMELLING FUN!
The Lavender Garden offers a myriad of activities including special events, contests, photography, and many interactive experiences for the lavender lover and entire family to enjoy.
Take part in our Scavenger Hunt. Name the Animals. Or simply relax on our patio and enjoy the view! There's always something new at The Lavender Garden to enjoy!
We offer a beautiful location for your special event. The lavender fields and panoramic landscape provide an exquisite background for your special day. Contact us for details and pricing.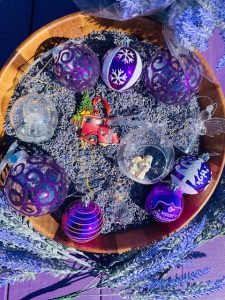 Celebrate the Season with our unique designs. Head out to The Lavender Garden while supplies last and deck the halls with all things lavender!
GET THE DETAILS »
Scroll down to see current, future and past events…
For more information on The Lavender Garden contact us at info@thelavendergarden.com  |  (661) 240-5352  |  
14014 Hwy. 46, Lost Hills, CA 93249.
Stop by The Lavender Garden Gift Shop for a delightful array of unique ideas sure to please.
Get The Details »
Paint your own ceramic pumpkin for $5 at the lavender garden! Saturday & Sunday for the month of October.
Get The Details »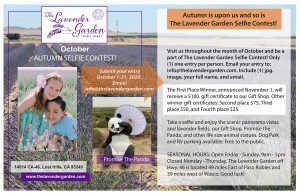 Autumn is upon us and so is "The Lavender Garden Selfie Contest!" Visit us throughout the month of October and submit your photo taken onsite.
Get The Details »
We are pleased to announce the winner was Marc Sandall with his entry of "PROMISE." Congratulations from all of us at The Lavender Garden!
Get The Details »